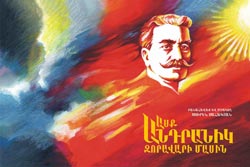 NOYAN TAPAN.
JUNE 12
Associate professor of Turkish Studies at Yerevan State University, Master of Science in Philology, Lusine Sahakyan's editorial efforts culminate in presenting the reader with a work that was originally
recorded and revised in 1960s-1980s by a survivor from Western Armenia, dialectologist-ethnographer Suren Sahakyan as the "Story about Andranik" epic novel.
The book consists of four parts that describe Andranik's birth, childhood and adolescence, adulthood, and glorious military career. This folk story is a unique example of an epic created in 19th-20th centuries, a wonderful product of Armenian collective thought, manifesting an attitude towards a heroic and a national liberation struggle. An epic novel is a comprehensive equivalent of a national hero's life and achievements. Lusine Sahakyan begins the book with a lengthy introduction that describes the roots, historic and epic characteristics, and value of an epic novel; also included is a dialectal dictionary that will make reading the epic novel easier. The book is published by "Ararat" Center for Strategic Research.
Leave a Reply
Կայքի մոդերատորներն իրավունք ունեն հեռացնելու այն գրառումները, որոնք պարունակում են անձնական վիրավորանքներ, բռնության կոչեր, թեմայից դուրս գրառումներ, գովազդային նյութեր։ Նաև չի խրախուսվում շատախոսությունը (flood):
You must be logged in to post a comment.